After seeing Captain America, we went to Southern Accent for dinner. I chose this place after looking through the Summerlicious restaurants, because there was an affordable $25 dinner here. Although apparently they have prix fixe menus through the year at around the same price, so it's not necessary to go during Summerlicious.
Southern Accent is a southern restaurant, with New Orleans and cajun-style food; and a place that I didn't know existed in Toronto if not for Summerlicious; so the program works, although even if I had known of this place, I don't know if I would have bothered to try it out if not for Summerlicious (and its $25 menu). The restaurant is in a house in Mirvish village and you eat in one of the various rooms of the house. We were in a freaky room with many paintings of a blue dog at the back of the house.
For starters we tried the Kick Ass Alligator (alligator in picante creole sauce served with hush puppies) and the soup of the day. I forget exactly what the soup was, but it was a weird combination of things including yogurt. The alligator was spicy, and actually worked well with the yogurt soup to temper things. I had read somewhere (when I was a child) that alligator tastes like chicken. The sauce was too spicy so I couldn't tell what it tasted like, but the texture definitely was like chicken.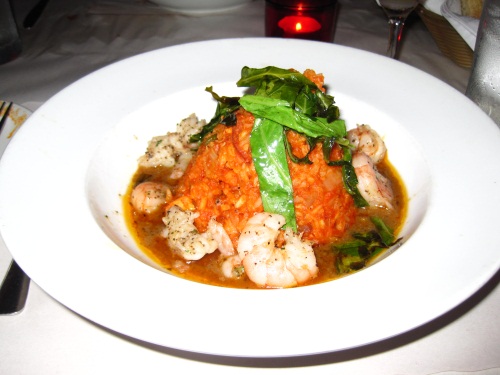 For mains we had the Canal St Creole Jambalaya (A highly seasoned rice combination of chicken, smoked ham, andouille sausage, rice and tomatoes, served on top of seared collard greens with garlic grilled tiger shrimp and Creole sauce) and the Lafayette Shrimp Étoufée (Black tiger shrimps smothered in a spiced rich deep-amber seafood reduction sauce, served with cumin basmati rice and a side of grilled asparagus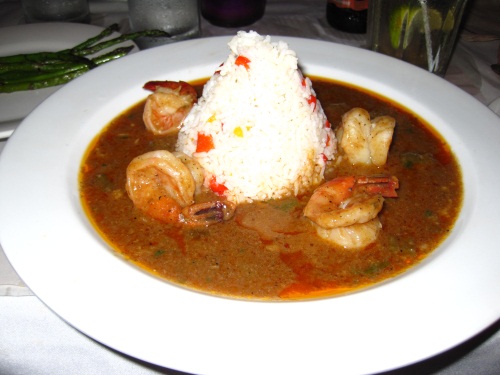 Dessert for me was the Pavlova (Aussie style meringue served with fresh fruit and fresh cream) and homemade vanilla bean ice cream. I was waiting for the ice cream for the entire dinner because there was not enough air condition/air flow in the restaurant!
Overall I thought it was good value for $25, and it's a change from the usual Italian/French/Canadian dining options that are available in the city.