On our first trip to Japan, we wanted to visit the Ghibli Museum and visited several Lawson's to buy tickets. Unfortunately, the tickets were all sold out. On this trip, we were smarter and bought tickets in advance and were finally able to visit the museum.
The Ghibli Museum is the museum of anime director Hayao Miyazaki who has created Spirited Away, Princess Mononoke and many other Western recognized anime films to his name (thanks to being released by Disney). Earlier in this decade, I watched and enjoyed several of his films but have not watched all of them (and not what you considered an active fan). I was probably more of a fan 2 years ago, but he hasn't been on my radar since.
Because of that, I don't think I got a full experience out of my trip to the museum. There were lots of decorations and exhibits which I didn't recognize or relate to. However, one can still enjoy the museum as a museum on animation. There are several exhibits which demonstrate how animation works and in-progress art that depicts how the animation on film is created.
When you are admitted to the museum, you get an admission ticket for a 15-minute short produced by Ghibli. It seems they produce a new short each year (so that people will pay for recurring visits). The ticket is unique in that it is a film strip with an actual negative embedded. Here's the one that I got: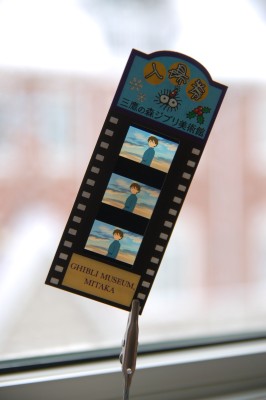 It doesn't look like a filmstrip with the sun shining through, but this is what it looks in normal light.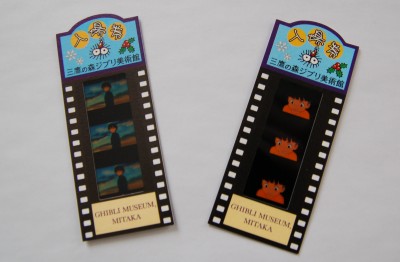 That was the best part of our trip to the museum, and a great momento!