April 14, 2011
Last year (last April I think??), I took a energy usage pledge to save on electricity, and the incentive was that you would get free tickets to a Marlies game. I forgot about it for awhile but then in January they actually sent me the tickets! I signed up for the last game of the season, which was on Sunday, hoping that the Marlies would be in a fight for the playoffs. Unfortunately, the Marlies are just like their parent team and finished on the outside looking in. It ended up being a meaningless game for both teams.
Our free seats were not bad, they were in the "lower bowl" although it was fairly high up. There's no second level at Ricoh Coliseum so they weren't great by any means (although much better visibility than our Leafs' seats earlier this year), but there were plenty of empty seats and few security guards so we could have moved lower if we cared too.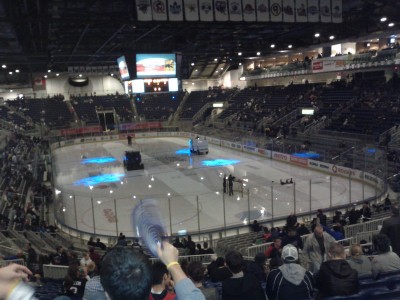 I caught a glimpse of the Marlies game the Saturday prior on CBC and it was pretty exciting. The defense in the AHL isn't as good so there were a lot of odd-man rushes and end-to-end play. The game we went too wasn't as exciting, but Toronto scored 6 goals so we had a lot of opportunity to cheer! Although we were sitting in the Abbotsford end, so we only saw Toronto score one of the goals (a nice backhand by Gregg McKegg on the powerplay in the second).
I have been following the Leafs closely this year, so I'm actually familiar with their personnel:
I was disappointed that Kadri did not play as he's been with the Leafs for a few weeks
I was surprised the Joe Colborne (acquired in the Kaberle trade) played since he played his first NHL game on Saturday vs Montreal
Jake Gardiner (acquired in the Beauchemin trade) play, and he played a heck of a lot – like half the game
Jerry D'Amigo didn't seem to do much, but I guessed him incorrectly in the Marlies' Facebook photo challenge
Marcel Muller scored a hat trick, with his last goal coming 20s left in the game. He was so happy with that goal.
Jussi Rynnas played in net
Andrew Crescenzi played on the first line (but was he just called up from the OHL?) and tried to make an impression – mostly in the opponents and the boards. But this guy is huge, he looks much larger than the 6'5″ Colborne.
Christian Hanson also started on the first line
I think Greg McKegg (draft pick from 2010) was just called up and played in his first AHL game too
Jeff Finger was scratched. That's hilarious, he was demoted from the NHL due to his large contract and now he's scratched in the AHL because the youngsters need a chance to play.
Luca Caputi (acquired in the Ponikarovsky trade last year) was a healthy scratch
As it was the last game of the season, it was fan appreciation day too. Everyone received a photo of the team on entry and they gave out a lot of t-shirts (during the game, and the players threw some out afterwards). We weren't lucky enough to get any though.