I've recently achieved a milestone (although I didn't get a badge for) in my Foursquare career, checking in to places over 2500 times! Judging from my very first blog about 4sq, I've been at it for about 2.5 years, so that's about 3 check-ins per day. If only I got a nickel for each check-in…
What better way to celebrate than with a map. Here's one I built using 4sqmap: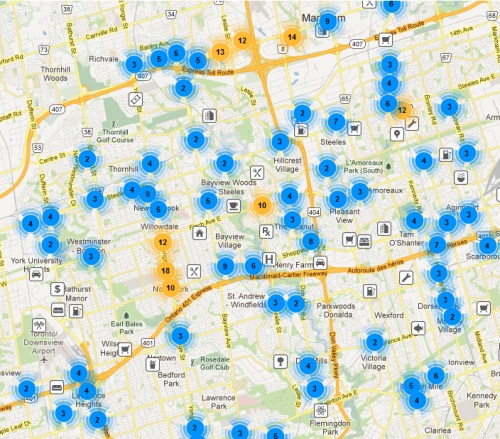 These are my check-ins grouped by the number of unique places I've visited in an area. You can see that I visit many places on major arteries and many around Hwy 7 and Yonge. When I went looking for a map generator built with the Foursquare API, this wasn't quite what I had in mind though – I wasn't just interested in unique places, I wanted to see the frequency of my check-ins mapped.
My quest eventually led me to Where Do You Go, where I was able to build this map: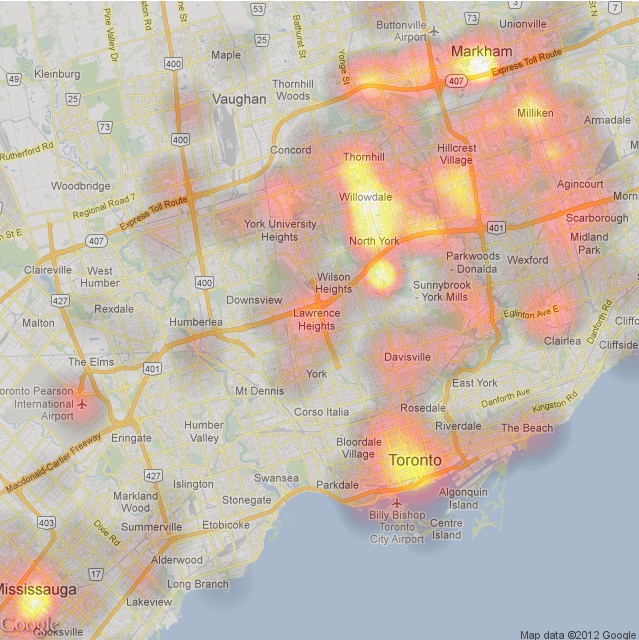 This is a nice summary of where I frequent now, a couple of old homes/workplaces and a couple of neighborhoods like Yorkdale, the Beach, Yonge/Eglinton, and Leaside. I wish there was a larger dynamic range though.