After a couple of years that weren't so eventful, 2012 was a year that was quite memorable for both good and bad reasons. It was a year of change, evolution and growth with a series of notable and lifetime events.
(Celebrating?)
The year started like any other, on vacation. This time we were completing our trip through Morocco and Spain. Spain was already in an economic crisis, and we took advantage with some cheap shopping. At that time, we knew it would be our last trip in Europe for awhile (we had flown too frequently there in the last few years), and also our last major trip for awhile too.
(Probably the one time I will go to Cleveland airport)
When I came back, I started a new job that's a little bit closer to home than my previous one. January was spent learning the ropes there. The next big moments in the year came in February. We celebrated because Pauline was pregnant with our first child and I ended up breaking my arm (unrelated). I ended up getting surgery to fix my arm and spent the next two months with a cast on, restricting my ability to function and learning new ways to do what I had to do (with one arm). Not only that, we were getting accustomed to our new pregnant family lifestyle (which isn't a huge change, but still a change nonetheless).
(Nowhere near Chinatown)
Luckily, my arm & cast didn't prevent us from taking our annual March Break trip, which was to Boston this year. Since we were done with Europe, only had a week (so couldn't go to Asia), and wanted to stay closer to home due to the pregnancy; we decided to vacation in the US this year. We chose Boston because the flights were cheap (Porter), we hadn't been there yet, and had a friend working there.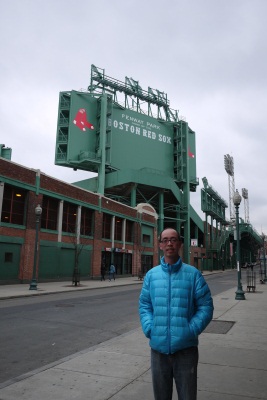 (Too early for the baseball season, so this is just Fenway Park)
A few weeks after we got back from Boston, we went with a large group of friends to Chicago over Easter long weekend where we shared our baby news. We also went on a trip to Pittsburgh over the Canada Day long weekend. That was the extent of our travelling this year, mainly because we didn't want to travel late in the pregnancy and because I wanted to save my vacation time until after Apollo was born.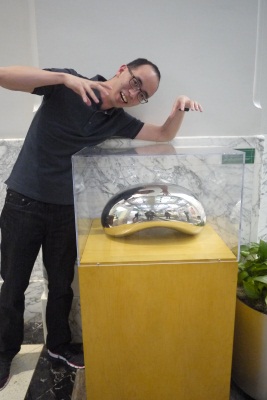 (I'm bigger than the Millenium Bean!)
We knew that we would be in for a lifestyle change once Apollo arrived. We would probably stay indoors for the next half year (also because it would be winter), and there is the associated lost of freedom when you have to take of a baby/child and not just yourselves! Because of this, there was a larger sense of urgency to go to events where you can't take a crying or fussy baby such as fancy dinners & sport events (Marlies, Raptors, etc). I think I was mentally prepared that this lifestyle shift would happen and expecting it, but even then there is a feeling of loss as you know a stage of your life is coming to an end.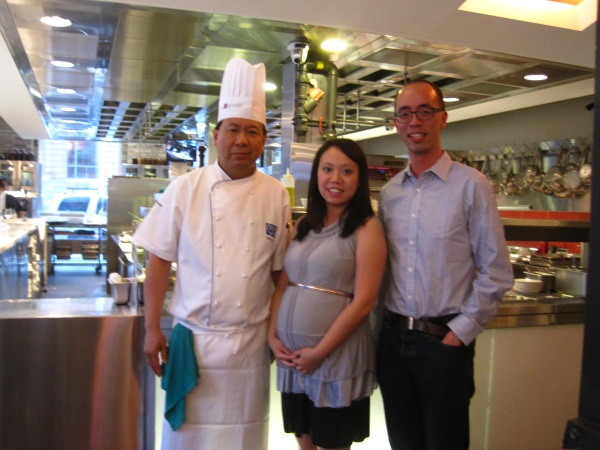 (Meeting the Chef at Chef's House)
Apollo arrived in October but we were prepared for his arrival by August (in terms of supplies at least). Our lives changed, as expected, but it wasn't crazy like some people say having a baby was. I took a two weeks off work, and my parents and in-laws were around most days, but we transitioned to a quieter schedule before the end of the month. The weather wasn't too cold in October and November so Apollo took several trips outside as well too. In the last few months of the year, it was a matter of getting used to how things should be done now and watching Apollo grow physically and mentally.
(???)
I had expected that once we had a baby, I would spend more time on some hobbies and less on others. I expected to read more, but that hasn't quite happened yet. I picked up a new hobby this year, which was to learn Korean and I've been working on that on-and-off for over half a year. I made several Android apps this year, both as part of work and at home. But one that thing that has changed is that I can pay more attention to hobbies that can be enjoyed in 5 minute intervals, instead of hourly intervals. Gaming is more bite sized now as well. In a similar vein, I've tried to make my "computing" more bite sized by trying to do as much as I can on my phone (i.e., surfing, catching up on social media).
(Celebrating?)
2012 was a big year for change and evolution, and one of the pivotal years in my life much like graduating school or going to university was.