For the last two years, there has been an Android conference in Toronto which I didn't really know about. But this year, the third year, I found out about it and went as part of a work event.
AndroidTO was a relatively small conference with about 800 attendees in 2011. I think there were about as many people there this year. The event was hosted at the Scotiabank Theatre in downtown Toronto, and all the attendees fit into the largest theatre (while it wasn't "sold out" seating, it was comfortably full). There were three tracks, one each for developers, designers, and business folks with speakers from various large companies (Google, Adobe, Tumblr) and some smaller, local ones (Kobo).
Some of the talks were interesting, and some were not so great – but can't complain for an event which I could go to on company's time (not that it was overly expensive for them). Of course, the best part about conferences is free stuff – and unfortunately there wasn't a lot: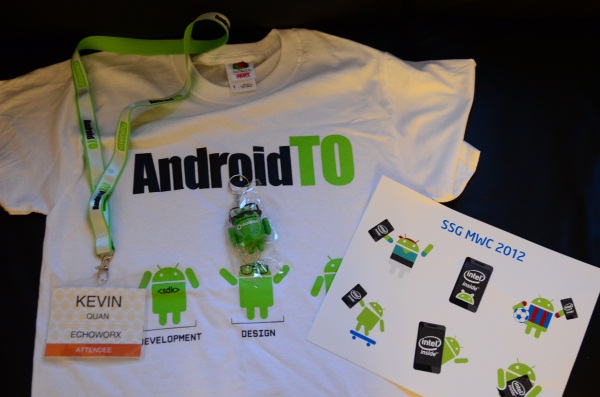 Only thing missing is a free ice cream sandwich from Kobo.
The swag part was actually a disappointment, but there just weren't a lot of booths that showed off products or were giving out cool things.