After 2 blogs about the food we had in Boston, you might be wondering where all the seafood is. Boston is known for its seafood right? Well wait no further because it's all in this post.
The first place we went to was this little place in the middle of nowhere called Alive and Kicking Lobsters. They don't even have a website! It's also almost impossible to find if you don't have Google Maps because it's a little shed in the middle of a residential neighborhood, between two large residential buildings and away from the street.
It isn't even a restaurant, it's a shop selling seafood, but they also have a lobster sandwich which is what we went for. I'm not sure if was good or not relatively to other lobster rolls, but it certainly tasted good – although I think I didn't have anything to compare it against since this was my first lobster roll. Lobster rolls are great and not too expensive either because you don't have to deal with the shells. We also had the home made cream soda (they make a lot of other pop varieties too). The cream soda was smooth; it had the kick but it wasn't overpowering.
Our next stop was Neptune Oyster which might be the most famous restaurant in Boston (it certainly has the most Yelp reviews). We showed up around 2PM on a Friday afternoon and still had to wait half an hour for a seat! at the bar! Here we had a couple of oysters, the clam chowder and the lobster roll (hot, unlike my first one). I'm not a big fan of clam chowder but Pauline said it was different in that it didn't have a lot of potatoes.
The lobster roll is a bit expensive at $25 but it is too much food! Although we saw lots of people order a roll per person, but I still think it's crazy. I thought this was just as good as the one from Alive and Kicking.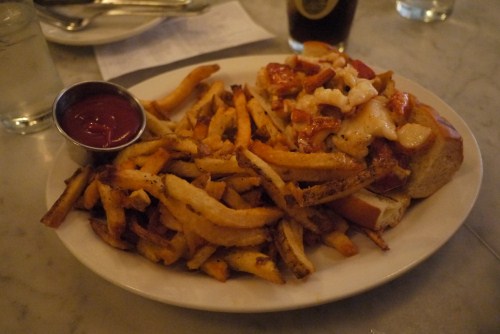 For dinner that night, we decided against Toro (a tapas place), and instead tried something close to our hotel. We ended up at Moksa and it turns out that it had only been open a week, lucky us. Moksa has an izakaya-style menu, but focused more on Chinese food (although there are other asian dishes). We had a couple of dishes, with the most unique one being chicken liver wrapped in bacon.
We've had chicken liver a couple times in the last month, on charcuterie and at Luma and both times it was kind of tasteless. Strangely, this was not – it tasted strongly like liver.
We stopped off at Boston Chowda in Quincy Market for chowder #2. And then it was off to our last meal in Boston at Legal Sea Foods. We didn't plan this before hand, but found out about it using Foursquare during a coffee break. Its claim to fame is that it has been serving clam chowder at the presidential inauguration since 1981. Naturally, we tried clam chowder #3:
I really can't tell the chowders apart!
For my main, I had fish and chips. Why something as boring as fish and chips? because they were spicy fish and chips! I liked it, the spiciness gave a nice kick. Also on this trip, I tried fiery hot chocolate (at Flour). That was not so good…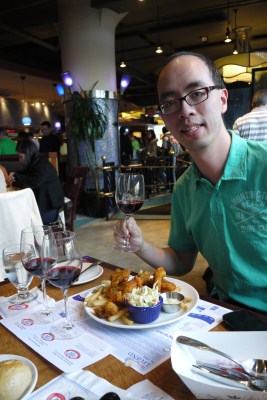 Pauline had the Cioppino which is a royal sampler – it had mussels, clams, lobsters, calamari and shrimp in a tomato broth.