Before going to the TSO last Saturday, we stopped by Fusia Dog (pronounced Fuschia – it would have been MUCH easier to pronounce if they spelled it correctly!) for a gourmet hot dog. The hot dogs at this place is in the style of Japa Dog although it's not specifically in a Japanese style. They use a variety of other trendy words like healthy, kosher, local, etc to describe their dogs.
There is a lot of choice, and all of them not too conventional so we tried the safe choice, the aptly named "Fusia Dog" for $6.95: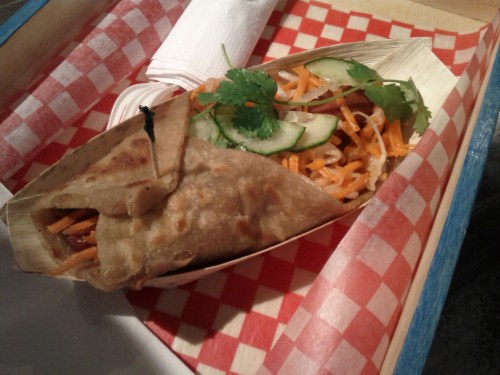 It was a hot dog in a wrap, with Horseradish sauce, daikon, and cucumber. It sounds strange but it works quite well! While waiting, we also received a sample of their Power Slaw. Although it looks weird with all sorts of different ingredients which might seem to taste bad (like cauliflower etc), it again worked well together and I wouldn't mind eating it as a real salad. This is an interesting place and we'll head down and try another one of their dogs next time.