I went to my second Toronto FC earlier this month because there was a deal to get $19 tickets. Not too cheap, but what convinced me is because that was the full price; there weren't any taxes or Ticketmaster fees (even though you buy through TM). So it ended up being $38 for two tickets and then $10 for parking, not too bad!
I actually had a hard time getting tickets, because I wanted to get a group of tickets together, but by the time I went to buy, all I could find were pairs! It seemed like the game would be sold out, but when we got there it turned to not be the case.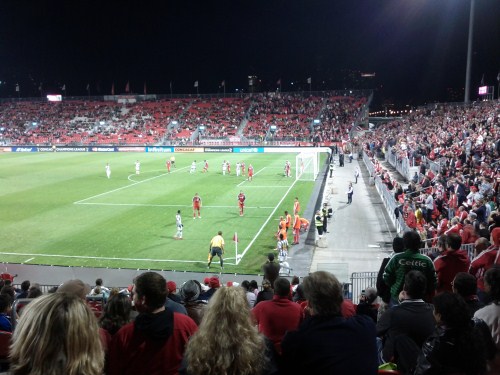 The game is part of the CONCACAF tournament. I don't know what that means, but it's not part of the regular MLS season. Perhaps it's for that reason that not a lot of people care/showed up and also why they charged a cheaper price. They might have also not played their regulars, but seeing as I'm not really a fan, I don't really know!
In the end the Toronto FC beat the Tauro FC (whose uniform made them look like referees) by a goal. The goal was quite spectacular as the corner kick ball was juggled by 3 heads before beating the goal keeper.
The game got interesting in the second half as the play got chippy and Tauros FC seemed to start diving. The referee ended up giving Tauros FC 4 yellow cards in the half, and one to the TFC! It was exciting until the end because Tauros FC had a free kick from the top of the penalty area in injury time, but luckily they couldn't score and Toronto won!